Sequencing
Illumina sequencing service
The Rnomics Platform provides a complete next-generation sequencing service: library prep, Illumina platform sequencing, and bioinformatics analyses. We offer a large panel of sequencing library types: DNA-Seq, RNA-Seq, ChIP-Seq, small RNA, PCR amplicons, and single cell. With the help of our two Illumina platforms - MiSeq and NextSeq - we are able to provide throughput ranging from 15M reads (4.5 Gb) to 400M (120 Gb). Both tariff and accessibility are eased for members of the Sherbrooke University community.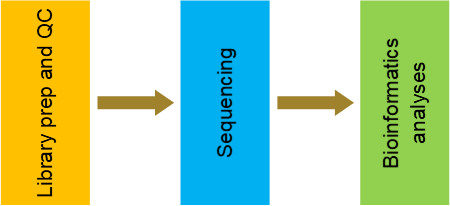 Workflow flexibility
Workflow divides itself in three main steps : library prep, sequencing and bioinformatics. We can execute all three steps or any of them separately, according to each project's needs.
Available applications
Transcriptome for gene expression and alternative splicing
Exome for variant calls and mutations
Metagenomics by 16S rRNA or complete genome
PCR amplicon sequencing
Non-coding RNA, small RNA
Single cell sequencing
Price examples
Open for any other sequencing application
SeqPool: sequencing sharing
We also offer the possibility to pool together different sequencing project and share costs. The SeqPool web app allows to view currently available sequencing projects and to submit a request to add a new library. The SeqPool app is available here.